Does PR for property really work? That's a complicated question to answer because for different businesses and founders the metrics that scream 'success' are, well, different.
Some PR clients simply want brand awareness raised by way of constant mentions in the press. Consistent coverage for their company and, often, themselves in building authority and of course trust.
Others want more 'ad like' PR representation – articles that simply say how great a company and/or its leadership is. This quickly wears thin though, can be met with public cynicism and is really a 'one shot' where each publication is concerned. In other words the Times are only going to promote a 'puff piece' once.
Our approach is to push out great creative ideas backed by solid research EACH and EVERY week. The resulting press coverage is thick and fast and builds recognition and credibility and thought leadership rapidly.
But, often overlooked, is the effect that our volume PR approach has on your internet presence.
How so? Well, Google seeks out credible websites when deciding in a nano-second whose websites to place on page one in its search results. Frankly, if you are a business that appears anywhere other than page one then you're likely missing 99% of traffic, enquiries and, ultimately, 99% of the potential business that's out there. But your competitors ARE benefiting from it if they 'outrank' you.
Volume media coverage, a strong digital footprint if you will, and with content relevant to your sector (that's super important) will result in Google serving up YOUR website as an authority. The more content, the more mentions and links and the higher you will rank. The alternative is that you will have to pay for it via VERY expensive Google ads and these can be tens if not hundreds of pounds per click and are 'crack' when it comes to marketing budgets. Beware!
So, natural, organic digital PR is the key to shmoosing Google, Bing etc.
And here's an image that proves it. This is a Properganda client that engaged us in October 2020. Their website traffic performance since can be seen for itself. In short we have DOUBLED the amount of people now visiting their website. And the way we do this is MUCH cheaper than via Google ads. Much!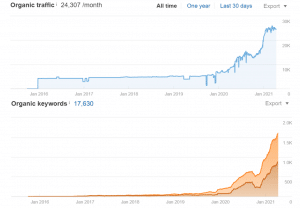 Email russell@properganda.pr to find out more.